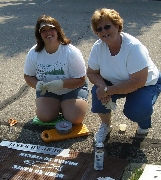 The Miami Soil & Water Conservation District sponsored a "Stencil a Storm Drain" day a few years back. That's why we have fish images on our storm drains. Linda Raterman, Information/Public Relations Specialist for the District, lead the event. In the picture, Raterman, and Sue Campbell, past Concord Township Trustee, stencil a storm drain at 2060 Seneca Drive.
Storm drains flow directly to nearby rivers and streams, not to waste-water treatment plants. Each year, people dump thousands of gallons of used oil, antifreeze, pet wastes and other wastes into storm drains. Stenciling will remind citizens to protect the rivers and streams from pollution that may kill fish and other wildlife and increase weed and algae growth.
If you are interested in volunteering, call the Miami Soil & Water Conservation District at 335-7666, ext. 230.