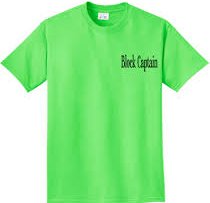 Our Association president Dave Menke says, "Thank you" to the Shenandoah block captains for making the neighborhood association function smoothly. This small group of hardy individuals is instrumental in maintaining the excellent communications we enjoy in the Shenandoah subdivision.

If you are interested in becoming a block captain or are just curious about their duties, here is a list:
Distribute written materials a few times per year.
Keep an eye out for new residents moving into your block, and notify the New Neighbor Committee chairperson.
Contact the block captain coordinator if you learn of criminal activity or other problems on your block.
Promptly notify the coordinator if you are unable to distribute materials.
The block captain coordinator is kspear, and the captains are as follows: